We accept the following payments:
Multisafepay:
For payments via Multisafepay you must register once.






_

PayPal:
You do not need an account at PayPal to pay with your credit cards.

You do need an account to be able to pay with your PayPal account.


Additional payment costs are charged of 3.5% on the transaction amount.





Afterpay via Billink:

Only possible for Dutch and Belgian consumers living in the Netherlands and Belgium.
Extra fee of € 1,00 will be charged for this payment option.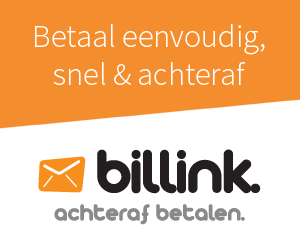 If you opt for afterpay via Billink, you agree with the accompanying general terms and conditions.


With afterpay via Billink, you will receive the product first and pay the bill to Billink B.V. (within 14 days of purchase).


During the assessment of your application, the information you provide will be forwarded to Billink B.V. in accordance with the provisions of the general terms and conditions, which it will check on creditworthiness.
In case of approval your order is accepted and you can pay afterwards on account.
You will then receive on behalf of Billink B.V.
the invoice by e-mail.


Billink B.V.
is responsible for the further processing of your payment.
Pay on time within 14 days to prevent extra costs for billing, handling and administration.


More info about paying afterwards:

http://overonlinebetalen.nl/achteraf-betalen/
Bijou Gio Design is an officially registered trademark ®.
Registered at the Chamber of Commerce No. 24372081 Rotterdam - Netherlands.